Regular price
Sale price
$ 1.50 USD
Unit price
per
Sale
Out of stock
This wonderful yellow iron oxide has a gentle earthiness to it that brings a unique vibe to whatever you use it in. Iron oxides are graded safe for cosmetic use and are produced synthetically in order to avoid the inclusion of impurities normally found in naturally occurring iron oxides including ferrous or ferric oxides, arsenic, lead and other poisonous substances.
"Best Yellow I have ever purchased! In more than 20 years of making soap this is the absolute BEST yellow oxide I have ever used! Nothing less that perfect, as I always can count on Mad Micas for the best, no matter what I order!"
—SL (verified)
A little goes a long way.  Please start with small amounts and slowly increase to avoid over pigmentation.
Recommended for:
Soap

CP soap stable

Eyes

FDA-permitted for eye area use

Lips

FDA-permitted for use on lips

Nails

FDA-permitted for external use

External

FDA-permitted for external use

Resin

Beautiful in resin

Crafts

Great for arts & crafts

Melts

Not suitable
*

 NOT RECOMMENDED for bath bombs.
| Yellow Iron Oxide | SDS COA |
| --- | --- |
| Product Type | Pigment |
| FDA-Permitted for External Use | Yes |
| FDA-Permitted for Eye Area Use | Yes |
| FDA-Permitted for General (Including Lips) Use | Yes |
| Usage Rate CP Soap | 1 tsp per pound of oils |
| Usage Rate MP Soap | ⅛ tsp per pound of MP base |
| Ingredients | Yellow iron oxide (CI 77492) |
Sample bags contain approximately one teaspoon.
Ultramarines and oxides are recommended for use in oil-based applications.
Notes for soap use: when mixing with MP soap, blend in a few drops of glycerin or oil to make a smooth paste to avoid clumps in your soap. White MP base will always create a pastel form of the color due to titanium dioxide in base.
Non-Bleeding, Non-Migrating. Stable in high pH
Share
View full details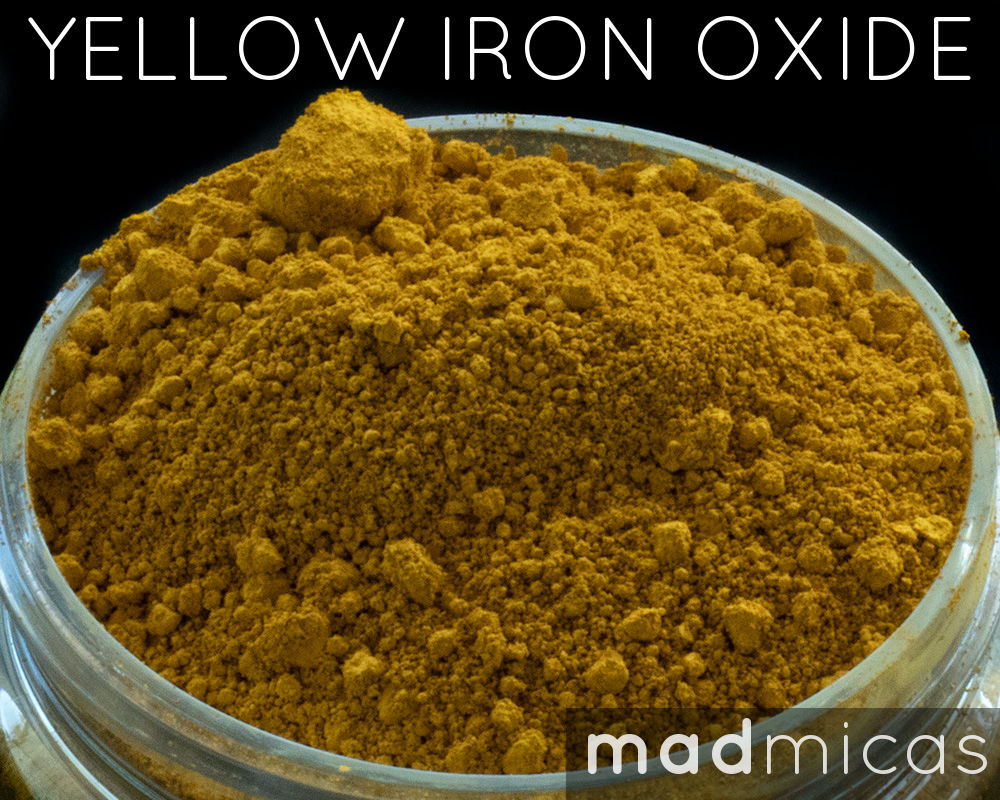 Perfect Mustard Yellow
Love the natural vibe you get from chromium oxides and the yellow doesn't disappoint! If you're looking for a mustard yellow then look no further! Highly recommend!
Yeller is da bomb
I'm in love with oxides! I used this yellow oxide in a CP soap as a drop swirl as well as a banana soap as a swirl. Such a rich color!
Beautiful and consisent.
Yellow Iron Oxide is one of my go-to's. It's very consistent and I've never seen it fade or morph. It's a strong color that maintains for a long time. I love it.
Beautiful yellow
My great grandmother taught me to make soap when I was 12. She was an herbalist and so am I.
I've been buying micas here & there (I'm pretty meticulous about ingredients) but I mostly go back to my roots of using herbs, minerals and clays (and blends) for my colors. I love this yellow and I REALLY love the jar. One of my pet peeves with bags is the transfer - I reach in with my spoon to get color, a little rubs off the inside of the bag on top my glove and 10 seconds later that color has found every surface I didn't want colored. Because. That's how I roll apparently. 😂
Yes, this is the first time I've used oxide from a jar. :) Thank You Mad Micas!!