Regular price
$ 12.15 USD
Regular price
Sale price
$ 12.15 USD
Unit price
per
Sale
Out of stock
SAMPLERS ARE NOW LARGER! Each color in the sampler now comes in a 5-gram bag - that's 65-75% more product!

The Color Shock collection includes every all nine blindingly-bright neon pigments we sell at a specially discounted price.

Ethical, Cruelty-Free, Vegan

Mad Micas is committed to holding ourselves and our suppliers to the highest ethical standards. We have established a strict set of guiding principles that govern our actions and our supply lines that are rigid and non-negotiable.

Animal Cruelty Statement

Mad Micas has never tested any of our products or their individual ingredients/raw materials on animals and we never will.
Mad Micas will never purchase from any supplier or manufacturer whom we know to participate in any form of animal testing or cruelty.
Mad Micas suppliers certify to us that no raw material used in the production of mica or other products we purchase from them has been tested on animals.

Vegan Statement

All products we buy, sell or give away are 100% vegan. This includes refusing to carry any products colored using carmine.

Supply Line Ethics and Child Labor Statement

Mad Micas sources exclusively from ethical supply lines.
Mad Micas requires declarations from all suppliers stating that no minors participate in mining, factory work, transportation or any other process involved in the production of anything we carry.
Mad Micas will not source product from areas (for example, mica from India) in which there have been documented ethical transgressions.
The Mad Micas transport supply chain consists exclusively of major carriers like FedEx, UPS, and DHL and thus is free of forced or child labor.

Additional questions about our standards and practices should be directed to our office via phone or email.

Download a printable version of the Mad Micas Ethics Statement.
CA Proposition 65

WARNING

: This product can expose you to titanium dioxide, which is known to the State of California to cause cancer. Titanium dioxide appears on the Proposition 65 warning list

only while in the form of "airborne, unbound particles of respirable size."

Once incorporated into a liquid or solid base it is no longer on the list. For more information go to

www.P65Warnings.ca.gov
Large Volume Purchases

5- and 10-pound sizes come in bags, not in jars or buckets, in order to help reduce plastic use and our carbon footprint.

Need larger quantities? Mad Micas offers aggressive discounts on large quantities of all colorants we manufacture, and we reserve customer-specific racking in our warehouse for our large volume clients to help smooth supply chain ripples.

Talk to us and find out how we can make your color life better AND easier.
Share
Visit the product page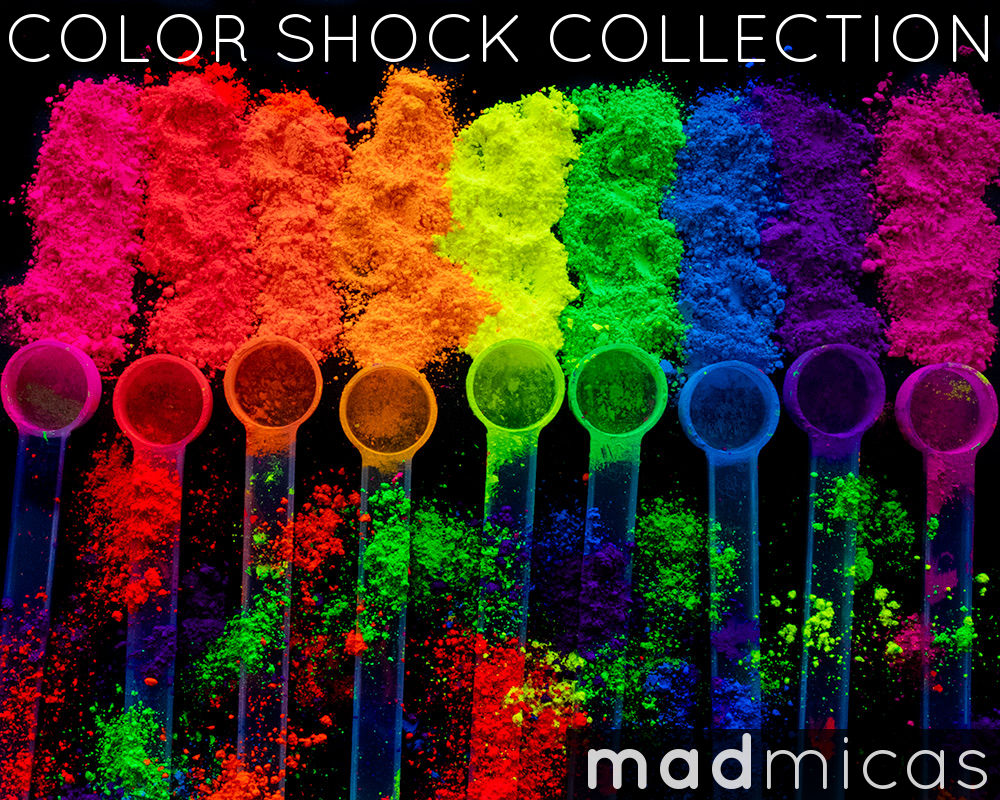 NEON Greatness
The neon colors are so vibrant, and names are the best!
OMG the colors!
I absolutely love the colors and the names of the micas just make me giggle everytime. Being a beginner in the resin world I like to experiment with making super colorful pieces that bring everyone who sees them that warm fuzzy feeling. And I have a ton of micas that I've tried that while I like the colors, just aren't as vibrant as I would like them to be. I got the neon sampler pack to try and OMG I was super excited at how vibrant and colorful the first pour came out!! I'll be trying out the regular micas soon 🥰🥰
Unbelievable beautiful colors
Mad micas color are amazing...I'm so happy with my order...will order again
The colors are fantastic.
So bright
The colors are very pigmented. All of them worked good and had great color