Regular price
Sale price
$ 4.35 USD
Unit price
per
Sale
Out of stock
This is a fine powdered green pigment. Iron oxides are graded safe for cosmetic use and are produced synthetically in order to avoid the inclusion of impurities normally found in naturally occurring iron oxides including ferrous or ferric oxides, arsenic, lead and other poisonous substances.
"I'm green with envy This oxide works so well and brilliant color in my CP soap. Green is my favorite color and this green looks so good in my landscape soaps."
—Melissa W. (verified)
We fill by weight and not volume. Your jar may look only partially filled. This pigment is dense and takes up less space than other powdered pigments.
Recommended for:
Soap

CP soap stable

Eyes

FDA-permitted for eye area use

Lips

NOT FDA-permitted for use on lips

Nails

FDA-permitted for external use

External

FDA-permitted for external use

Resin

Beautiful in resin

Crafts

Great for arts & crafts

Melts

Not suitable
*

 Bath bombs fall under "Lips."
| Chromium Odixe Green | SDS COA |
| --- | --- |
| Product Type | Pigment |
| FDA-Permitted for External Use | Yes |
| FDA-Permitted for Eye Area Use | Yes |
| FDA-Permitted for General (Including Lips) Use | No |
| Usage Rate CP Soap | 1 tsp per pound of oils |
| Usage Rate MP Soap | ⅛ tsp per pound of MP base |
| Ingredients | Chromium oxide (CI 77288) |
Sample bags contain approximately one teaspoon.
Ultramarines and oxides are recommended for use in oil-based applications.
Notes for soap use: when mixing with MP soap, blend in a few drops of glycerin or oil to make a smooth paste to avoid clumps in your soap. White MP base will always create a pastel form of the color due to titanium dioxide in base.
Non-Bleeding, Non-Migrating. Stable in high pH
Share
View full details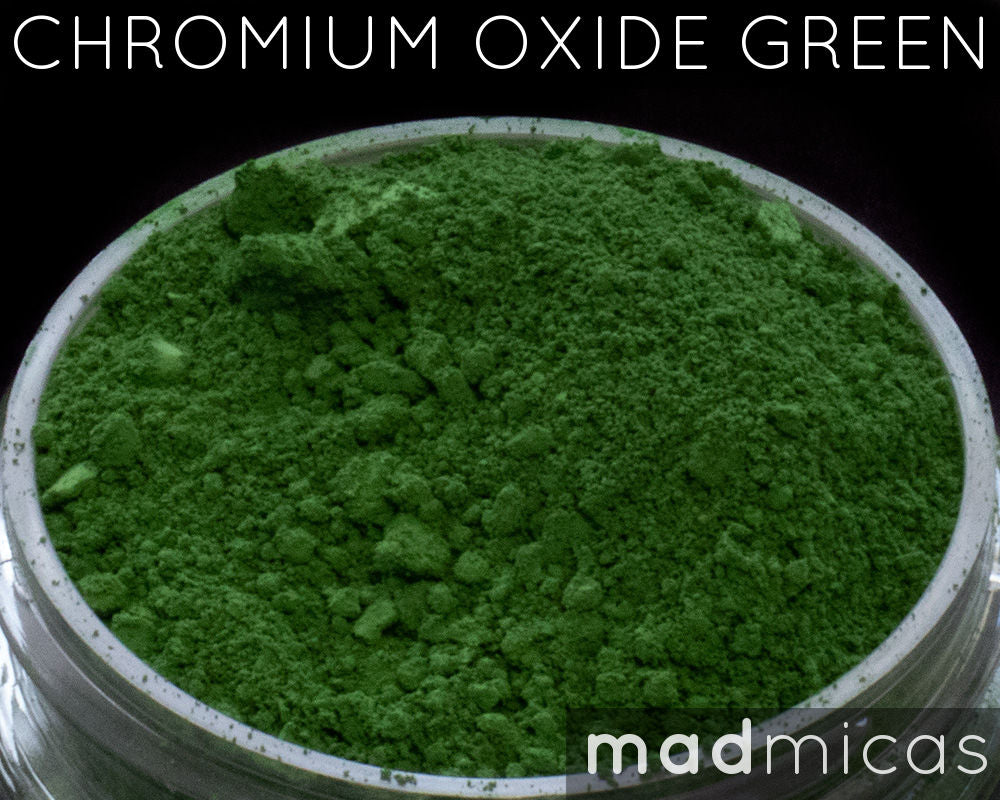 A beautiful, Green!!
I used a small amount for a soft green and I love how well it turned out. This is the first "Green" that I've been able to use that actually turned green.
Just what I needed!!
This green was perfect, I can't wait to unmold my soap, was very easy to mix and the color was just beautiful. Im very happy, and I will buy again.
Good green
This is a great addition to my greens collection. Alone it is a nice natural green. Perfect for monstera leaf soap molds.
Love All the Mad Micas Chromium Oxides
In addition to green, I purchased the red, brown, and yellow chromium oxides from Mad Micas and I absolutely love them all! I tend to like the natural colors you get from oxides and the green definitely doesn't disappoint! I was planning on doing a hanger swirl using the green & yellow oxides from MM, but unfortunately my FO caused my batter to rice. So instead of beautiful swirls, it turned into a hurry up and plop type of situation instead lol. Regardless, the oxides & ultramarines from Mad Micas are deep, bright, and vivid and without hesitation, I highly recommend the green chromium oxide if you're looking for a true forest green.