Regular price
Sale price
$ 8.95 USD
Unit price
per
Sale
Out of stock
All FDA-certified dyes are now GRANULAR.
Less mess, same usage rates.
Important Information! Dyes may appear drab or look like the wrong color in the jar and must be bloomed before being incorporated into your medium. Please visit our page about using FD&C Dyes and Lakes to learn more about usage in bath bombs, soap and other products, as well as how to bloom dyes.
| FD&C Batch Certified Yellow No. 6 Dye | FDA Certificate |
| --- | --- |
| Product type | FDA-certified dye |
| Dye load | 90% |
| FDA-Permitted for External Use | Yes |
| FDA-Permitted for Eye Area Use | Yes |
| FDA-Permitted for General (Including Lips) Use | Yes |
| FDA-Permitted for Bath Bombs Use | Yes |
| Solubility | Water soluble |
| UV effects | Will fade |
To learn more about FDA certification, what it means and how it's done, visit our page explaining the FD&C certifications.
Share
Visit the product page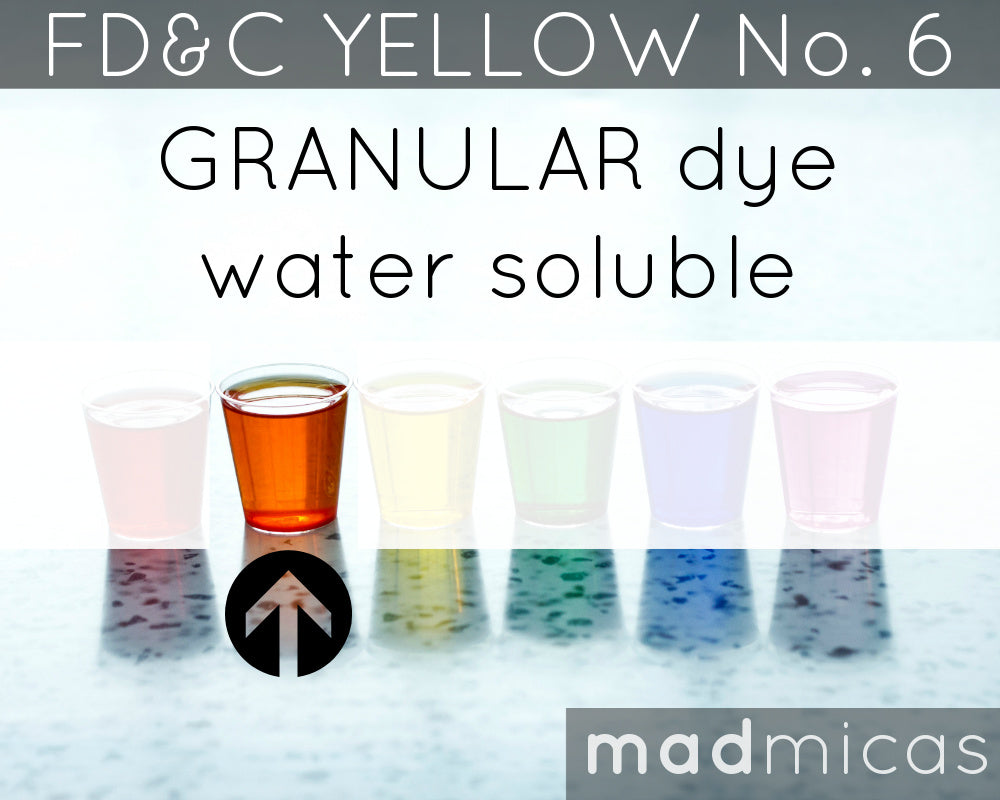 Love this!
I have fallen in love with Dyes. Used it for the first time for bath bombs and I will be using dyes in the future. A little truly goes such a long way!
Perfect!
Perfect color and easy to use!
Orange?
So when bloomed water method it produces almost a neon orange color but when it dries is a very sandy orange color. Makes it hard to have vibrant colors because they seem to only stay vibrant when wet then fade to almost pastel color
You may not be using enough. Try adding more to see if it pops the color! :)
Easy on the eyes
Well written and easy to understand. Great information on how to get the true colors we want, the easy way, and fix the errors, the easy way too! Greatly appreciated especially as it extends our options, reduces our restrictions, and eliminates resource wasting practices. Gotta love it! Thanks MadMicas!