Regular price
Sale price
$ 3.99 USD
Unit price
per
Sale
Out of stock
This container pushes dry glitters or micas through a pump, spraying the dry product evenly with each pump.  Perfect for topping your creation with color or making a "pencil line" in your soap without overspreading.
These work well and consistently every time.
We've tested a number of these and they keep on going.  (You should have seen what we looked like after we sprayed each other outside!  We were going for the enchanted fairy look ;))
What is great about our pump: The swing-out side nozzle is perfect for hard to reach places.  No more maneuvering your hand to point at the hard-to-reach spots!
FOR BEST RESULTS: We recommend filling the bottle a little more than halfway so there is plenty of room to insert the pump mechanism into the dry mica or glitter without putting pressure on it.
Holds about one ounce of dry glitter or mica.  Not for use with liquids.
Share
Visit the product page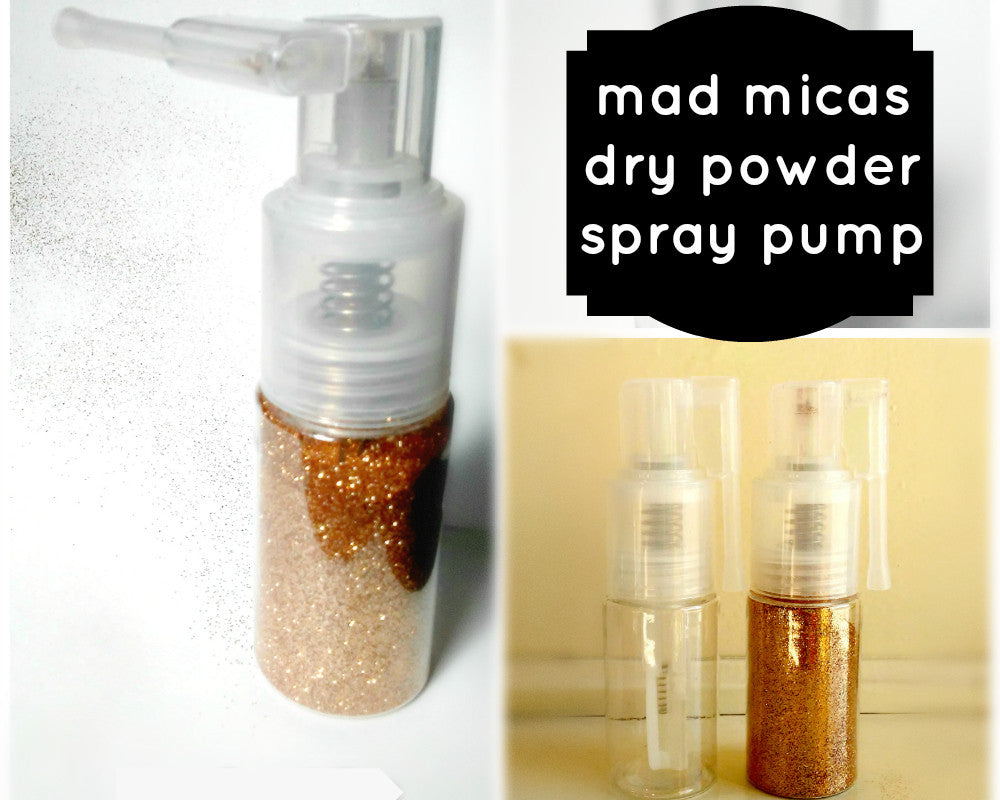 Love!
Love this tool to use in making the perfect touch to any soap batch!
Instructions would be nice
It works great once you figure it out. I've already broken one trying to get it going.
I LOVE these pumps!
I find I have zero trouble with glitters and they make it so fun and easy to dust the soap tops. I have pineapple assault and into the mystic in these. Love them!!!
My favorite though is the sparkle me blue that I have. (I'll be adding more of those "Sparkle Me" ones to an order asap.) Mine was clogged when it arrived, I followed the steps given to unclog it and have had zero trouble since.
Definitely recommend these!
Mad Micas Brand New Sparkle Mica...Woohoot!!
I just love the Dry Sparkles and the Mica pump! At first I tried to fill the Mica Pump with too much Mica and it clogged up my brand new Mica Pump and i was at a loss! So, I let them know at the Mad Mica's Store and they gave me a few pointers! Number one pointer is: DO NOT FILL THE MICA PUMP TOO FULL. Of coarse, that is exactly what i had done! We got that fire all put out. Along with my 2 Mica Pumps, i had ordered some new colors and of coarse, the dry sparkles are included! I just love the subtle way the Sparkles Pop!! It is so amazing and im very glad that i purchased a jar. I was able to get my pump to spray a layer of Sparkles and that was amazing...just like i had planned it!
I love my new colors that came with my Sparkles order. Preppy blue, which is a nice slide over from The ultra Marine Blue which i love, love, love is wonderful to work with....i love my blue colors!! And my Oxide Red's are solid and not to be bossed around by the lighter Mica types of Rose, Pink and a subtle Rose color! All in all, I am a happy soaper that simply loves to order and/or deal with Mad Mica's and the employee's that make the store what it is..Gotta love how personal it is to get a Swedish Fish and a brand new color sample along with an acknowledgement of my name and that they appreciate my business. This day and age...this type of behavior is priceless!! Love you guys at Mad Mica''s!!
Dry Glitter/ Mica Spray Pump
I'm going to enjoy using this on my foot balms.