Regular price
Sale price
$ 0.98 USD
Unit price
per
Sale
Out of stock
Protect you purchase from loss and damage!
How It Works

Mad Micas Shipping Protection is offered to orders shipped within the United States only. Shipping Protection protects your purchase should anything happen to the package in transit. If it's lost, stolen, damaged (even partially), or just in an infinite tracking loop that never seems to get to you, you're covered.

Here's how it works. If you select Shipping Protection from the shopping cart during checkout, and you are shipping your order domestically, you're covered. If anything happens to your package, including being stolen from your porch, just notify us with the pertinent information as well as your order number.

If you know that your order was stolen, your claim is processed immediately. If it's lost in the mail or marked delivered (but hasn't been), there's a five day wait before processing the claim to allow it time to turn up; in the vast majority of cases it does. We do request that you check with family members and neighbors to make sure someone doesn't already have it.

Once the claim is processed, a replacement order is packed and shipped out to you at our expense immediately.

It's that simple. No claim forms, no waiting for a refund, no trying to convince anyone that it's really gone. You tell us what happened and we replace it.

We think the price is right, too. It costs a flat fee of just 98 cents per package, no matter how valuable your order is.

We care about you, and we care about you getting your products. We hope that this insurance provides just a bit more peace of mind that your package will get to you safely.
Important Information & Exclusions

Claim Limits

We reserve the right to limit claims to one per household.

In order for us to process claims on orders valued at over $250 that are marked delivered by the carrier, we reserve the right to require the customer to file a police report with local authorities that details the theft, a copy of which must be forwarded to Mad Micas. Without a police report being filed, we reserve the right to refuse the claim.

International Shipments

We regret that we are no longer able to offer Shipping Protection on any international shipments. If you purchase Shipping Protection and your order is shipping internationally, we will refund the cost to your payment method.

Shipping to Freight Forwarders

Due to numerous packages marked delivered at freight forwarding companies that have subsequently gone missing, if you are sending your shipment to a freight/parcel forwarding company that will then ship it to your location, we are unable to replace packages marked as delivered to a forwarder. If it is lost in transit or never delivered, we will, of course, cover it

Shipping to Non-Billing or Other Third Party Addresses

Mad Micas reserves the right to decline to provide Shipping Protection on packages sent to any address other than the billing address on the order. In such cases we will notify the customer and return the insurance fee.

Shipping Methods & Signatures

Due to loss and theft profiles that are carrier and/or delivery location-related, Mad Micas reserves the right to select the shipping method of our choice for packages on which Shipping Protection has been purchased, and/or to require signature release of any packages for which we deem such precautions are warranted. These decisions are based on the value of the order and other factors such as historical data. Mad Micas will cover the cost of signature requirement if we choose to require it.

In such cases, we will notify and confirm with the buyer that these changes are acceptable. If they are not, we will ship according to the wishes of the buyer, but unfortunately cannot offer Shipping Protection on the shipment and will return the fee.
Share
Visit the product page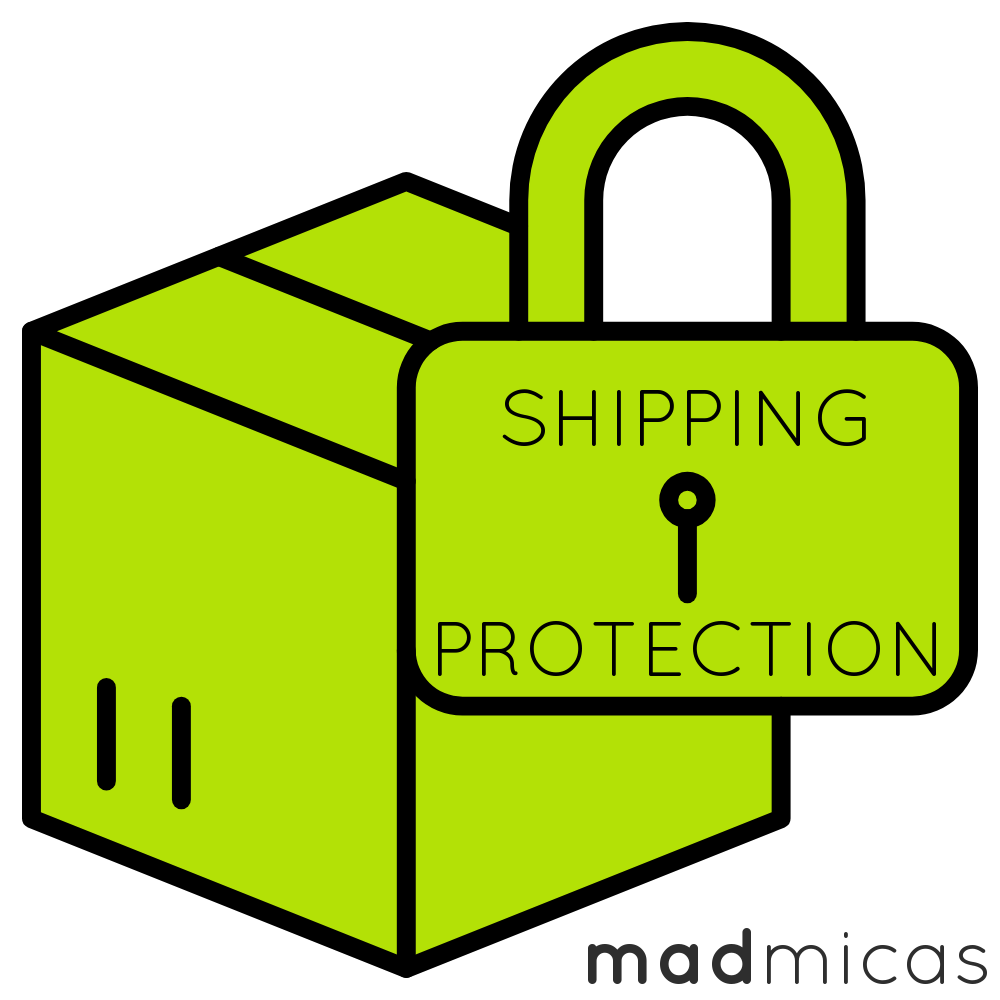 Grasshopper
I love Mad Micas They are My number one Store to get Micas From. I love That the colors are bright . Thanks Mad Micas for all you do in the soap making community. I can't wait to use this color.
Astro Green
I love this Color It is a awesome Green. I hate that is is being discontinued.
Absolutely love Mad Micas
so im fairly new at soaping and somebody had recommended Mad Micas as i was having troubles with colors staying mad micas is bomb it worked wonderfully i ordered 3 times im a forever customer thank u Mad micas!
Peace of Mind
I love that they offer peace of mind because let's face it the carrier companies don't care how your package arrives. Mad micas does.
Shipping Protection
I love the fact that you offer protection on my order.