Regular price
Sale price
$ 6.95 USD
Unit price
per
Sale
Out of stock
All FDA-certified dyes are now GRANULAR.
Less mess, same usage rates.
Important Information! Dyes may appear drab or look like the wrong color in the jar and must be bloomed before being incorporated into your medium. Please visit our page about using FD&C Dyes and Lakes to learn more about usage in bath bombs, soap and other products, as well as how to bloom dyes.
| FD&C Batch Certified Red No. 40 Dye | FDA Certificate |
| --- | --- |
| Product type | FDA-certified dye |
| Dye load | 87% |
| FDA-Permitted for External Use | Yes |
| FDA-Permitted for Eye Area Use | Yes |
| FDA-Permitted for General (Including Lips) Use | Yes |
| FDA-Permitted for Bath Bombs Use | Yes |
| Solubility | Water soluble |
| UV effects | Will fade |
To learn more about FDA certification, what it means and how it's done, visit our page explaining the FD&C certifications.
Share
Visit the product page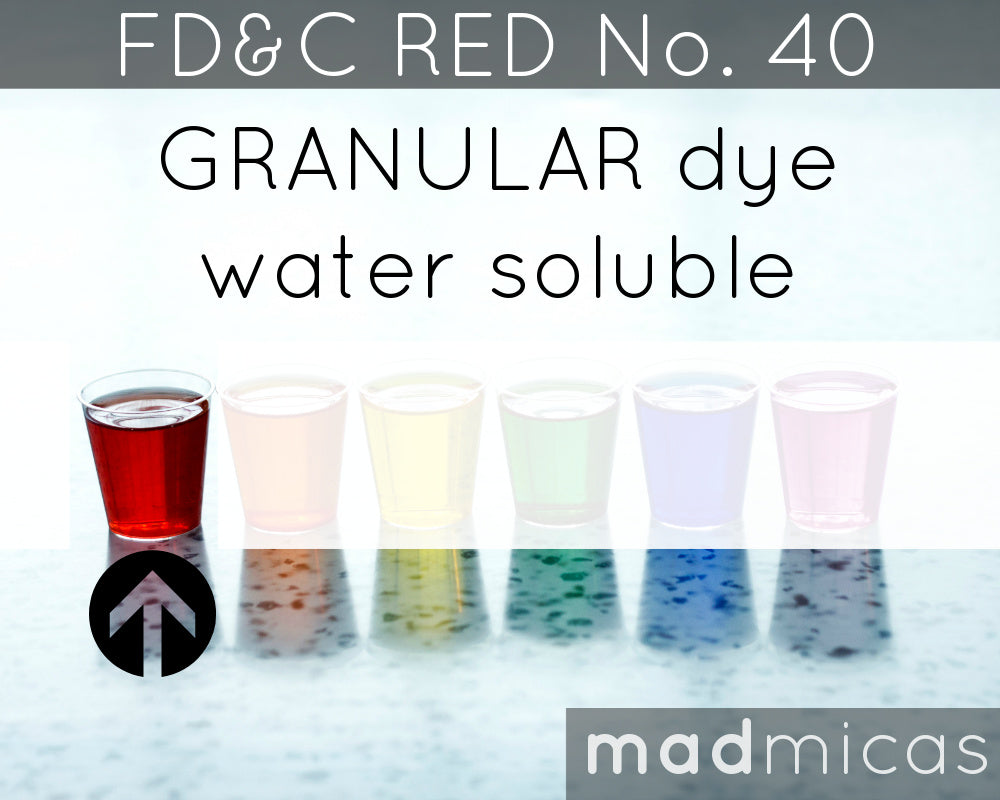 Bath Bombs 💣
New to using dyes for my bath bombs! I love the color red! The color of the dye was perfect but I don't think I mixed it right and the dye for my finished bath bomb came out different!
Love it!
Love the color and the dye doesnt color the powder if no water is added.
What vibrancy?
I've worked with this color for over a year and it always turns a dark dirty brick red and doesn't seem to be vibrant except in water. Very disappointing visually in the product and only has pay off when used in the bath. Makes selling items colored with this hard to sell as "red"
This color is a brick red before blooming the dye, which is necessary for all dyes before use if you want a vibrant color before it hits the water.
If you have questions about the dyes or how to bloom them, feel free to call us at 561-845-0050 and speak to me, Joanna. We are here to help in any way we can! :)
Our Lakes may be the direction you may want to try to go in. They are already vibrant as is, but more is needed to create the color you want.
Red dye
This is a very red, a bit darker than expected but it didnr disappoint
A+++
Ruby red indeed! Works gorgeous with my bath bomb recipes and blooms perfect! Definitely recommend!!!