Regular price
Sale price
$ 9.95 USD
Unit price
per
Sale
Out of stock
All FDA-certified dyes are now GRANULAR.
Less mess, same usage rates.
Important Information! Dyes may appear drab or look like the wrong color in the jar and must be bloomed before being incorporated into your medium. Please visit our page about using FD&C Dyes and Lakes to learn more about usage in bath bombs, soap and other products, as well as how to bloom dyes.
| FD&C Batch Certified Blue No. 1 Dye | FDA Certificate |
| --- | --- |
| Product type | FDA-certified dye |
| Dye load | 89% |
| FDA-Permitted for External Use | Yes |
| FDA-Permitted for Eye Area Use | Yes |
| FDA-Permitted for General (Including Lips) Use | Yes |
| FDA-Permitted for Bath Bombs Use | Yes |
| Solubility | Water soluble |
| UV effects | Will fade |
To learn more about FDA certification, what it means and how it's done, visit our page explaining the FD&C certifications.
Share
Visit the product page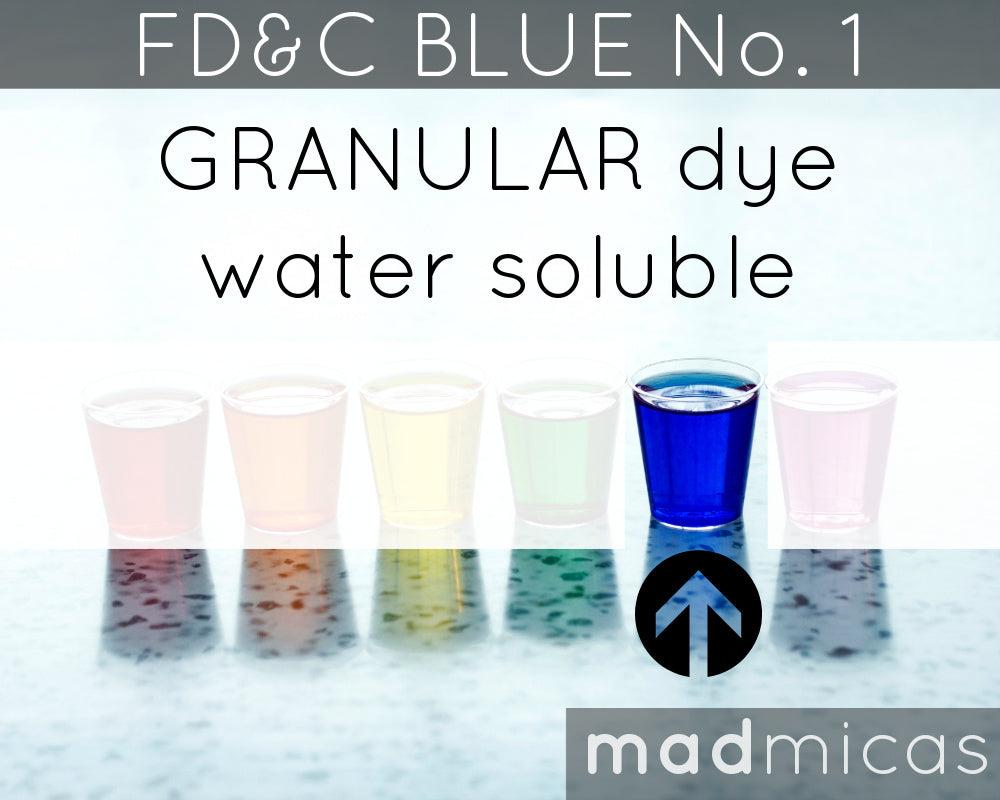 Colors are all absolutely beautiful and vibrant!!
Beautiful blue!
This was my first time using dyes and my embeds turned out beautifully. The color in the water from the embeds is beautiful!
Great Color Payoff
I've recently ventured into making bath bombs and bubble bars. I really wanted them to color the water, and this blue dye fits the bill perfectly! I've mixed it with other water-soluble dyes to make gorgeous greens and purples as well.
Beautiful Colour
This is exactly what I needed for my bath products and the colour is stunning even after its dispersed in the water.